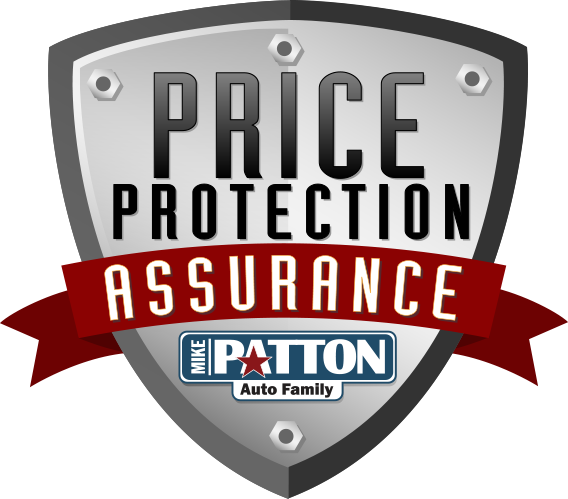 At Mike Patton Chrysler Dodge Jeep RAM and the Mike Patton Auto Family, we are serious about offering you the customer the best price upfront! The price of each vehicle is proudly displayed, which eliminates wasted hours of negotiation. However, we don't just
say
we have the best price. We back it up with our industry-leading PRICE PROTECTION ASSURANCE on all New Vehicle and Certified Pre Owned vehicle purchases.
The PRICE PROTECTION ASSURANCE states that if you find a better price on the exact model of vehicle you purchased from us within 72 hours, we will give you the difference PLUS 10%! How's that for confidence?
FREQUENTLY ASKED QUESTIONS:
Why does Mike Patton Chrysler Dodge Jeep RAM offer PRICE PROTECTION ASSURANCE? We offer PRICE PROTECTION ASSURANCE to give you an unparalleled peace of mind. We work tirelessly to evaluate the market and mystery-shop our competition, so we can deliver the most competitive price for our vehicles. Even so, market conditions do change quickly, which may cause us to misprice a vehicle. In this event, we want to ensure that you are protected from paying more than you should.
Do I need to buy a vehicle from Mike Patton CDJR first to use PRICE PROTECTION ASSURANCE? Since the PRICE PROTECTION ASSURANCE is a reimbursement program, you must first purchase a vehicle from us. It's important to understand our PRICE PROTECTION ASSURANCE is not a negotiation tactic used by other dealers.
Why doesn't Mike Patton CDJR save time and match anyone's price? Although this seems like a great idea, the results are not as beneficial to our customers. In virtually every instance, our customers report our prices are exceptionally lower than our competition. If we simply priced our vehicle at the same price as the competition, the price you pay would most likely be higher.
What does "We reserve the right to buy the vehicle on your behalf" mean? If a dealership is selling a vehicle at a ridiculously low price, Mike Patton CDJR may decide to buy the vehicle at that price to be used in our stock.
Do Certified Pre Owned vehicles qualify for PRICE PROTECTION ASSURANCE? Certainly! Even though used vehicles present more challenges to compare, we have tried to simplify the process. Most recently, the allowable mileage variance versus for used cars has increased. We've also added the requirements of a clean CarFax or AutoCheck report and a comparable warranty. Our goal is to compare apples to apples and ensure the vehicles have comparable histories and reconditioning.
Do new vehicles qualify for PRICE PROTECTION ASSURANCE? Yes! As long as the mileage is within 500 miles of the comparison vehicle and meets all other requirements, it will be eligible.
What is the process to request a refund of the savings? Simply, deliver the PRICE PROTECTION ASSURANCE certificate to your sales professional. Make sure you include all of the necessary documentation. Afterwards, we will handle the rest.

Will online vehicles be eligible for PRICE PROTECTION ASSURANCE coverage? Online vehicles do qualify for coverage as long as they meet all of the requirements and are deliverable from a dealership.

If my buyer's order is signed by a salesperson at another dealership, does that qualify? In order for your PRICE PROTECTION ASSURANCE certificate to be valid, it must be signed by a manager along with their business card. Unfortunately, the signature of a sales professional will not qualify.
Will a buyer's order from another state qualify? In many instances, manufacturers provide regionalized rebates and incentives. If the vehicle has a rebate or incentive that has geographical limitations, Mike Patton CDJR will provide you with the documentation to verify this regional price difference. Other than regional incentives, as long as the buyer's order has a manager's signature with their business card, it qualifies.
Can the price of accessories qualify for PRICE PROTECTION ASSURANCE? Due to the large number of manufacturers and varying quality, we are unable to offer the Mike Patton PRICE PROTECTION ASSURANCE on accessories. However, you can rest assured that we will provide you with the highest quality accessories and competitive pricing.

Will Non-Certified Used Vehicles qualify for the PRICE PROTECTION ASSURANCE? The PRICE PROTECTION ASSURANCE does not apply to these vehicles. Although Non-Certified vehicles are inspected, they can have exceptionally high levels of variance in mechanical condition and appearance, which makes it almost impossible to compare them. However, you can remain confident that you are receiving the best possible price from Mike Patton CDJR and any other dealership within the Mike Patton Auto Family.
Do you have more questions? Contact Mike Patton Chrysler Dodge Jeep RAM in LaGrange, GA 
If you have more questions about our PRICE PROTECTION ASSURANCE, we have answers! Simply give us a call at (844) 202-5810 or send a message through our Online Contact Form.